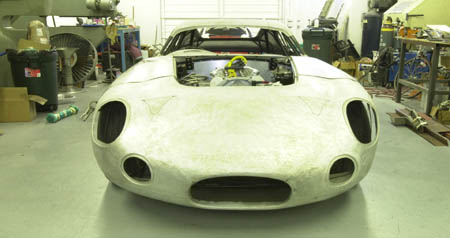 Aston Martin built two of the original Project 214 to race at the 24 Hours of Le Mans. Both cars were in the lead until they retired for transmission failure. One of the Project cars was severly damaged during a race in Germany, leaving behind only one authentic and undameged 214.
A client who was a fan of the Project 214 commissioned Eurocoachworks to manufacture a re-body of the original Project 214.
To make a true to form re-body, we researched the original form and used authentic form components as well as pictures and blue-prints of the original car.
The client provided a donor car in the form of a DB4. We built a bare chassis to support the "super legera" tubing frame for the aluminum body.
The body was then hand hammered using precise digital measurements to insure precise accuracy.
The engine was redone to a full race 350 HP, capable of speeds of 250 MPH. We moved the engine back on the chassis to lower the center of gravity and created a 52/48 weight distribution and a total weight of 2100 lbs.
The project is near completion. Check back soon for finished pictures.